Post by X factor on Mar 30, 2013 20:36:37 GMT -5
Things really seem 'off' or 'tilted' to some right now...
With same sex marriage in the headlines every day now .
www.nytimes.com/2013/03/30/us/supreme-courts-glimpse-at-thinking-on-same-sex-marriage.html?_r=0
and stories of teachers demanding that students stomp of images of 'Jesus'...
www.deseretnews.com/article/865576783/Mormon-student-at-Florida-Atlantic-University-punished-for-refusing-to-stomp-on-Jesus.html?pg=all
And even Chic-Fil-A reversing it's stance on homosexuality, by offering free sandwiches for those in support of same sex marriage, is odd or 'off'...
It's almost like 'money and profit' have become the new 'god' or diety...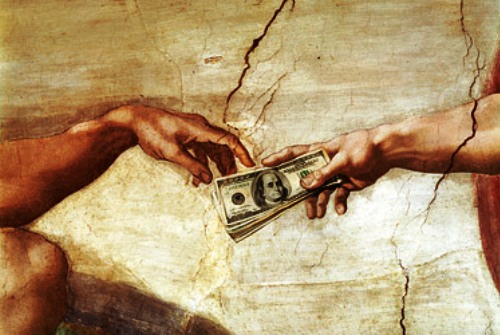 You even have elected officials, Congressmen and Senators, coming out in favor of same sex marriage...
But I sense they're doing it not as a core value, but rather to stay trendy or in office..(money=god)....
As if people are selling their souls left and right now to stay trendy, regardless whether it conflicts with their personal faith.
Again...money, power, and wealth seems to have replaced core principles now days...
And since religion has mixed in with politics, political use of religion has helped discredit it.
Sadly, the Fox News, right wing talk radio version of god and morality, discredits true, basic principles that are meant to help people prosper, not hinder their prosperity...
That's why people use to always warn against mixing religion and politics, cause once you do, religion becomes invalid, and simply seen as a tool to promote ones on political candidate and or personal issues.
Many have been turned against religious derived ethics, thanks in part to the talk radio phenomina, where secular talk show hosts use religious references to 'badger' others of different political leaning.
So now, subconsciously, people associate religion more with grouchy, bias, crude, insulting, joke telling talk show hosts, more than they do 'Jesus' or the apostles anymore...
And the effects are devastating...cause once people stop taking 'god' or 'religous' ethics seriously anymore...than the only deterant for doing 'wrong' is state rules and or punishment, and not inner deep convictions of love and moral.
So now the state becomes 'god' and the police become the angels which enforce 'gods' will...
Spiritual conviction is no longer a factor in 'right vs wrong'...
Nor is spiritual conviction any longer a factor in shaping peoples core being.
So instead you simply encourage a society where people do, what they think they can get away with, not from fear of 'gods judgement', but in fear of the states judgement.
Hollow souls...no personal conviction, just the states convictions...which or dictated by elected officials, which or motivated by power and money and who need votes to stay in office.
It's scary how this environment is changing folks...
And you see it up close and personal on the streets...the youth, patterns in the hood.
But sadly it's all spilling over into the rest of society...like over flowing sewage...everyone is now effected by the spill over.
I'm not an activist for or against same sex marriage, nor am I a politician...I'm just one who observes and is true to self...
And as such I can't sit here and act is if what's been happening lately with human behavior and certain policies is 'normal'...the tide is turning...like a shift in a cube paredyme.
To those hostile to 'god' or 'religion' I suppose it is a good thing...
To those partial to 'god', religion and faith...it's frightening, the speed at which all this is occurring...
And self serving talk radio hosts, who have hid their bias behind 'religous' principles for years, simply help to give fuel to this changing moral wind.