Sales
May 8, 2015 18:21:12 GMT -5
Post by X factor on May 8, 2015 18:21:12 GMT -5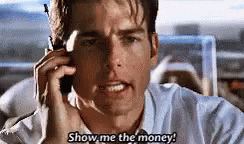 Sales, there was a time when I really wanted to follow this model.
Be that sales person with briefcase, suit attire, robotic yet successful.
Not anymore, not unless promoting or selling own product I invented or own business.
I was just scanning sales positions on C/L's and none of them excited me.
Not only that just not enough money involved in 9-5 common item sales items.
The sales where you become a millionaire aren't advertised on C/L.
Like security sales, bonds, future holdings, stock type stuff, or airplane sales, exotic car sales, yacht sales, big time items where you're commission is at least $10-$40,000 dollars or more.
Not trying to bust but and get rejected for $3-400 a week in commissions.
Just not there anymore.
Not only that but don't want a sales job where I have to change appearance.
I'm best, most confident, when I'm natural, when I look how I want to look.
Not trying to take on any companies image, life's to short for that and the only image I want to promote while alive is my own.
But wasn't always like that.
Is one reason why I could never work for UPS...could never drown out my own image, which I've worked years to attain, and replace it with generic UPS image.
You may not believe this but I'd rather be homeless than work for company that forced me to change my appearance just for a job.
The window for me wanting to comply, wanting to impress others at corporation is gone, close, at least for now.
And that's kind of what life's about is meeting a opportunity while you're still receptive to it.
Your mood and style have to be aligned with the opportunity before you or it just isn't a good fit.
There are many things I've tried, in terms of employment, long after I lost the passion for it and it just didn't work.
But when I did have the passion for it, wasn't able to do it.
Like romance, someone you could have dated 8 years ago may not be your cup of tea today.
Looking and dressing like a
geek
is not going to make me a better salesperson, I have celebrity looks, and that's what people respond to, that and my personality, the two go hand and hand.
Not trying to look like a geek, cut hair and all, just to sell wackin hut muffins or whatever.
I need to be me, in order for my best to come out, and that applies to everyone.
But most need or have convinced themselves they need a check more than I do so succumb to whatever demands company asks of them.
Me, at least at this phase of life, I don't.
The rebellious side of my spirit is just not dead yet.